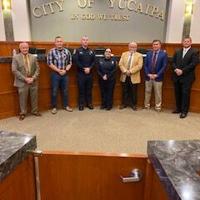 Yucaipa 911 dispatcher Chloe Castillo recognized at a city council meeting for National Public Safety Carriers Week |
At the Yucaipa City Council meeting on Monday, April 11, Yucaipa Fire Chief Grant Malinowski reminded elected officials and public attendees that this is National Public Safety Carriers Week and that agencies public safety recognized their 911 dispatch personnel. Chief Malinowski introduced Chloe Castillo of the Yucaipa Fire Department to the city council.
"Chloe came to CAL FIRE in 2017 after graduating from the Riverside County Sheriff's Department Police Officers' Department Public Safety Dispatch Academy, and became a Certified SWAT Tactical Dispatcher," said Malinowski said.
Castillo is assigned to CAL FIRE San Bernardino's Emergency Command Center (ECC) as a Yucaipa City 911 dispatcher. The CAL FIRE San Bernardino ECC is a command center controlling and directing resources under the supervision of a battalion chief and a fire captain and not a dispatch center strictly.
"This adds another layer of complexity to the command and control that Chloe needs to be able to perform, in addition to receiving and dispatching 911 calls. Chloe brings a wealth of knowledge and experience to her position, she is trained and qualified to perform all police, fire, EMS and aviation operations.In addition to her dispatch abilities, Chloe provides daily vital pre-arrival medical instructions to the citizens of Yucaipa on calls to 911," Malinowski added.
Castillo is certified as an Emergency Medical Dispatcher and Advanced Emergency Medical Dispatcher.
Malinowsli said, "She is a crucial part of our public safety system and is the eyes and ears of firefighters until they arrive on the scene."
In 2021, Castillo made over 3,200 calls to 911.
Residing in French Valley with her husband Jorge who is a fire captain-paramedic in the CAL FIRE Riverside unit and their children Robert and Leila. In her spare time, Castillo enjoys taking her children to San Diego to see their extended family.
Castillo said, "I just want to thank the citizens of Yucaipa for giving me the opportunity to serve. It was awesome and I love everything I do for the city and for the state of California.
The public can view this article at yucaipa.org.