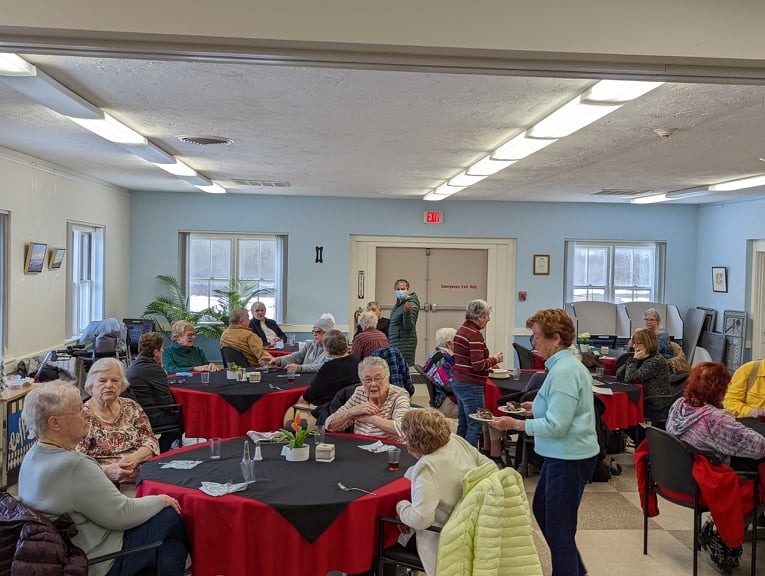 Soup at the Marion Council on Aging
The weekly lunches at the Marion Council on Aging aren't just about soup, the seniors said Thursday – but the brothers' hot bowls and chowder are pretty good too.
"The soups are great," said Linda McCarthy, seated at a table with three friends in the center.
His friends accepted.
"They have a wonderful variety," Joy Berto said, from clam chowder to broccoli and cheese to borscht.
Thursday onion soup is her favorite kind, she says. Steaming bowls of broth topped with a thick slice of bread were accompanied by a chocolate trifle dessert for the diners.
This Thursday was Berto's first lunch in more than a week, she said, after a late January blizzard snowed her at her Marion home for 10 days.
Going out and enjoying a hot meal with friends is one of the joys of Thursday lunchtime soups.
"It's a time of togetherness," said friend Janice Basset, as the women waited for their meals.
McCarthy said some of the ladies became friends meeting at those lunches, although others have known each other for some time.
The women said the weekly gathering brings people together to enjoy food and each other, especially in an uncertain time during the pandemic.
"Everyone makes a point of being here," Berto said.
That's also what it's all about for the organizers, board director Karen Gregory and assistant Michael Poznysz.
Gregory said the council has between 20 and 30 seniors for soup lunches each week, while a dozen others have their lunches picked up and taken home from the centre. The center hosts weekly soups from October to March, and this is the fourth year of the program, she said.
"People love soup," laughed Gregory.
She stood in the centre's kitchen, apron on, after helping prepare dozens of bowls of broth for the starving elderly. Later, when the seniors left, they thanked Gregory for her work and congratulated her on Poznysz cuisine.
The recipes, she said, come from a combination of her own home cooking, online recipes and all the ingredients the council finds in grocery stores, she said.
Gregory recommends seniors who want to participate in the weekly soups call 508-748-3570 by Tuesday to register for this Thursday's event at 465 Mill St. Those picking up the center's take-out lunches should come at 12:30 p.m. to eat their meals, she said.