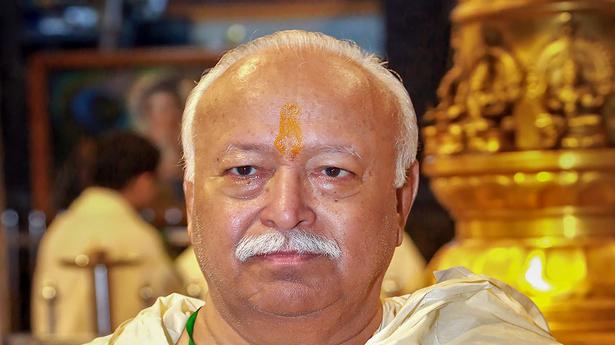 RSS leader Mohan Bhagwat meets with members of the Muslim community in Delhi
According to an RSS source, the 75-minute meeting explored ways to foster fellowship and promote the theme of religious inclusiveness

According to an RSS source, the 75-minute meeting explored ways to foster fellowship and promote the theme of religious inclusiveness

Rashtriya Swayamsevak Sangh (RSS) leader Mohan Bhagwat, in a recent closed-door meeting in the nation's capital with representatives of the Muslim community, asked them to clarify their position on cow slaughter. He also questioned the use of terms such as " kafir' (unbeliever) and 'jihad' (holy war) against Hindus and suggested avoiding them.
The Muslim delegation, which had requested the meeting following comments by now-suspended BJP spokesperson Nupur Sharma on the Prophet, in turn informed the RSS leader of the growing sense of fear in the community lately. .
The 75-minute interaction, an RSS source said, explored ways to foster fellowship and promote the theme of religious inclusiveness.
Prominent Muslim representatives present included former Lieutenant Governor of Delhi Najeeb Jung, former Chief Election Commissioner SY Quraishi, former Vice Chancellor of Aligarh Muslim University, Lt. Gen. Zameer Uddin Shah (retired), National Vice President of Rashtriya Lok Dal Shahid Siddiqui and businessman Said Shervani.
"Bhagwat ji first asked them to clarify their position on cow slaughter and all said they were against it. He was told that Sir Syed Ahmad Khan, the founder of AMU, had banned beef on campus out of respect for the feelings of all communities," the source said.
The RSS leader also questioned the use of the word ' kafir' for Hindus and they were told it meant a person who is in denial (mainly of the existence of God). 'How can Hindus be' kafir'? They also have faith in God," the RSS official quoted a member of the Muslim delegation to Mr Bhagwat as saying.
On the subject of jihad, the participants allegedly told him that they never used this term and explained that it was misinterpreted by "anti-social elements" bent on dividing the country. It's actually an inner journey of self-correction, they said.
Freedom of expression

Moving the discussion forward, representatives of the Muslim community shared the pain of being branded as deshdrohis (anti-nationals) for activities that are simply a matter of freedom of expression.
Explaining the context of the interaction, RSS officials said The Hindu that Mr. Bhagwat continues to meet people from various sections of society in every city he travels to.
While Mr. Jung kept a low profile, Mr. Siddiqui said the meeting was organized to promote peace among the people and ended on a high note.
"We did not meet Bhagwat as a representative of a community, but as concerned citizens. Recent events in the country have raised the temperature. We want to bring it down and close the gap between the communities," the RLD leader said.