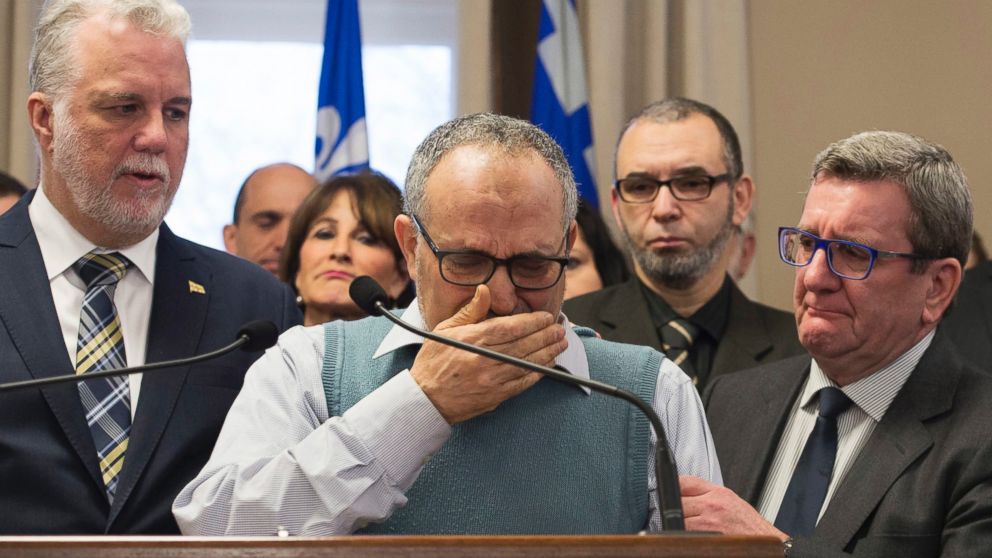 Members of Quebec's Muslim community say the unit grew out of the tragic shooting at the mosque
[ad_1]
Six were killed in the shooting.
?? – Members of Quebec's Muslim community are overwhelmed with grief but grateful for the sense of solidarity following a deadly shooting at a Quebec City mosque on Sunday evening.
Sunday night's shooting at the Islamic Cultural Center in Quebec left six dead. All the victims were men between the ages of 39 and 60, police said this morning.
As members of the grieving Muslim community spoke alongside politicians at a press conference today, some speakers appeared moved, and one even broke down in tears.
A member of the targeted mosque said in English that there is great sadness in the community because they take care of each other like brothers; the mosque member said that each victim has a family and is a father.
Another mosque member said in French that the most targeted people inside the mosque were those standing in prayer. He said the attack came as a shock and that they would ask the city to secure their place of prayer. He added, crying, that it is heartwarming to see the solidarity of all.
Another member of the mosque said in French that there were no words to describe the unity that arose out of the tragedy. The mosque member said he felt proud to be Canadian and Quebecois, calling it the most wonderful city in the world.
A female member of the mosque condemned the violence, declaring in French that she was against any act of violence against any human being.
The Eiffel Tower went out at midnight local time in tribute to the victims.
Members of the Muslim community said they had been targeted before, but added that they did not live in fear.
Quebec police said this morning that all local mosques have increased security.
The suspect in custody has been identified as Alexandre Bissonnette, according to police sources.
The motive is not clear and police said this morning the investigation was ongoing.
The mosque shooting comes two days after President Donald Trump's travel ban on Friday imposed on people from seven predominantly Muslim countries, and a day after Canadian Prime Minister Justin Trudeau tweeted on Saturday: "To those who flee persecution, terror and war, Canadians will welcome you, no matter what your faith. "
Trudeau called the mosque shooting a "terrorist attack on Muslims."
"It is heartbreaking to see such senseless violence. Diversity is our strength and religious tolerance is a value dear to us as Canadians," Trudeau said in a statement. "Muslim Canadians are an important part of our national fabric, and these senseless acts have no place in our communities, cities and countries."
Addressing the Parliament of Canada today, Trudeau said: "To the more than one million Canadians who profess the Muslim faith, I want to say directly: we are with you. Thirty-six million hearts are breaking with yours.
"We will get to the bottom of this," Trudeau added. "Canadians will not be intimidated. We will not face violence with more violence. We will face fear and hate with love and compassion, always.
Philippe Couillard, premier of Quebec, who also called the shooting terrorism, said in French during the press conference that everyone is united today.
Couillard pledged to support Muslims in the community, saying in a statement that Quebec should not withdraw following such violence and become a closed society because of the shooting, and should instead continue to host everybody.
Trump called Trudeau this morning to express his condolences and offer his help, according to Trudeau's office.
ABC News' Ben Gittleson contributed to this report.
[ad_2]