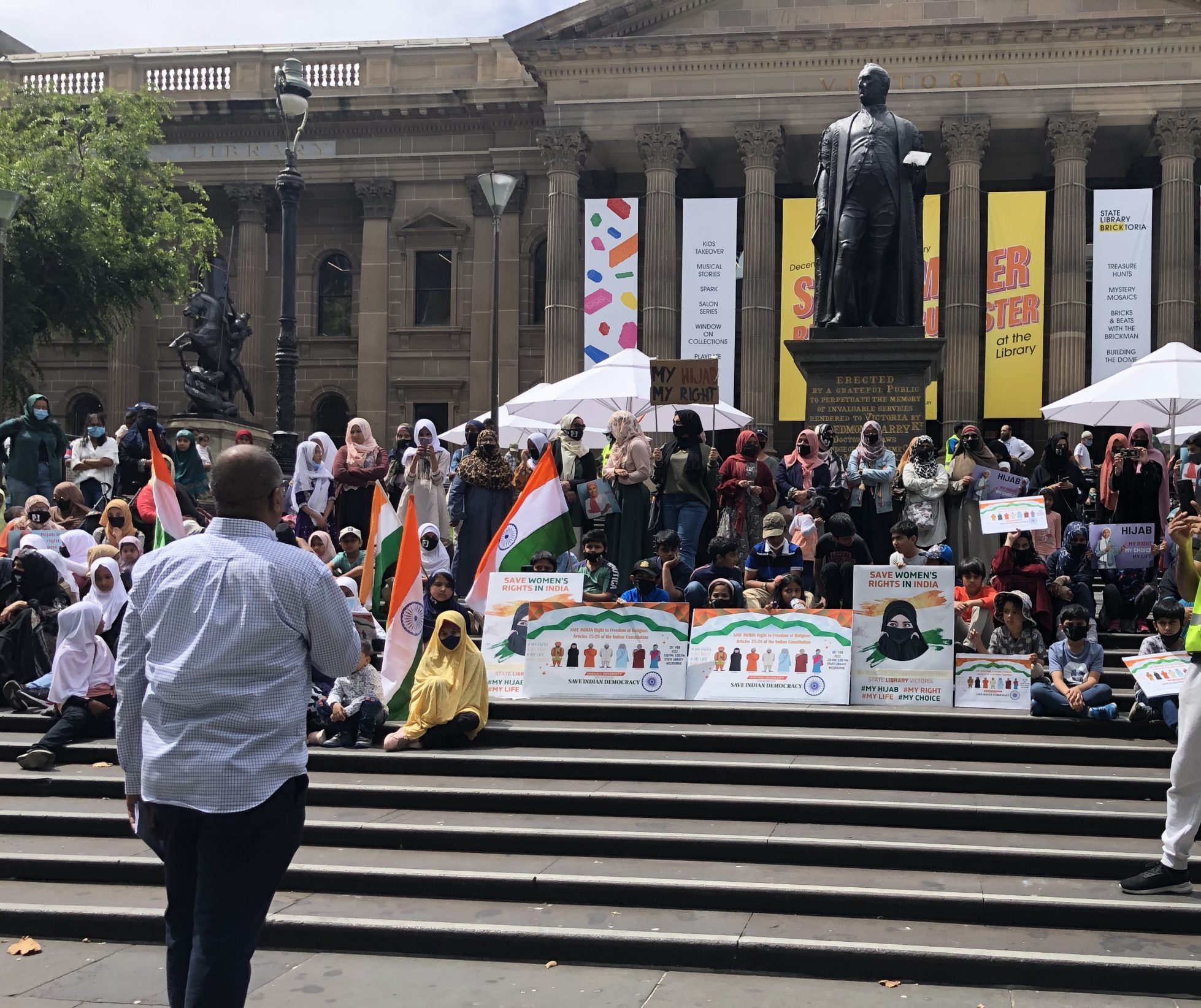 Melbourne joins growing list of anti-hijab protests around the world
Protesters stood outside the State Library of Victoria carrying signs saying 'Save Women's Rights in India' and 'Hijab – My Right, My Choice'. Several others carried posters that read "My life" and "The hijab is my right".
Hundreds of Indian Australians, many of whom are Muslim, staged a protest at the State Library of Victoria on Sunday against what they said was an unconstitutional ban on the right of Muslim students and teachers to wear the hijab .
This followed protests held Saturday in several US cities by several foreign organizations, including Native American civil rights groups and activists.
It all started in the southern Indian state of Karnataka, where Muslim female students were suddenly banned from entering their classroom wearing a hijab. Unfazed, six students continued their studies sitting outside their classrooms, which garnered the support of several international personalities.
Subsequently, a video of a group of Hindu men from Karnataka harassing a hijab-wearing Muslim student named Muskan, went viral on social media. It sparked protests from people around the world in support of the defiant girl who raised her fists and forced her way into college.
The program in Melbourne started with the recognition of the country followed by the Indian and Australian national anthems. Several female students from schools and universities were among those who addressed the rally.
University student Sara Fawadi called the ban "absolutely ridiculous, shameful and hypocritical because schools are meant to be a safe place of learning where generations are raised and they have been turned into a discriminatory environment where people are brainwashed into hating each other."
Gisella Ali, representing The Humanism Project, a secular Indian social justice group in Australia, said: "The Indian Constitution encourages plurality, protecting Indian citizens from any form of religious discrimination that we now see in action. Uniforms in schools are intended to minimize the differences between students of different and unequal economic classes. They are not intended to impose cultural uniformity on a plural country. This is why Sikhs are allowed to wear turbans not only in the classroom, but even in the police and the army. This is why Hindu students wear bindi/tilak/vibhuti with school and university uniforms without comment or controversy. Similarly, Muslim women should be able to wear the hijab with their uniform. »
"Women should be able to access education, employment and public spaces without being humiliated or punished for their clothes. We support every woman who is told she cannot enter her educational institution because she is wearing some form of clothing," she added.
Activist Tanvi Mor said that although the hijab is not part of her culture or religion, she understood respect, dignity and tolerance; and what it means for a woman to have access to education as a basic right. "We have reached a stage where a dress code has become a matter of religion and has been given greater importance than a girl's right to education without discrimination," adding that the majority of the population should not have her say on the issue of a Muslim woman's right. right to wear a hijab.
"We have fought a century-long battle to fight for women's rights, let's not set them back or become an obstacle to their progress. For a country to progress, the empowerment of women is essential in all sections of society. It cannot be seen in isolation, but rather a collective effort," she said.
More protests are planned in other Australian and New Zealand cities in the coming days.
Support for these girls came from all corners of the globe.
Nobel Peace Prize laureate Malala Yousafzai tweeted: "Refusing to let girls go to school in their hijab is horrifying. The objectification of women persists – to wear less or more. Indian leaders must end the marginalization of Muslim women.
The Goodwill Ambassador for International Religious Freedom (IRF) tweeted Feb. 11 that "religious freedom includes being able to choose one's religious attire."
"The Indian state of Karnataka should not determine the admissibility of religious attire. Banning hijab in schools violates religious freedom and stigmatizes and marginalizes women and girls," Rashad Hussain said in the tweet.
In Europe, students and scholars from Erasmus University Rotterdam in The Hague have also issued a statement of solidarity. A statement from them reads: "Students have been targeted, brutalized and subjected to threats of Hindu majority intimidation and state-sponsored violence."
"We unconditionally support acts of resistance by Muslim students and endorse these students' demands to be granted their constitutional rights – freedom of expression, practice of their faith and access to education," the statement said.
Prominent voices in South Africa have spoken out against the harassment of these students in Karnataka.
Ashwin Trikamjee, leader of South Africa's Hindu Maha Sabha, said: "All cultures, including cultural practices and beliefs, should be respected by all," she told South African news site IOL. News.
Arthi Nanackchand Shanand, the president of Arya Samaj in South Africa, told IOL that if the Karnataka institution specifies a particular dress code, students must adhere to it. However, she believed that Hindu men had no right to prevent Muslim women from wearing the hijab in class. "It does not concern them. This is a matter between the school administration and the students. As a Hindu priest (of the Vedic Purohit Mandal), I can safely say that our scriptures do not support patriarchy, on the contrary, they support the dignity and respect of all women.
Human Rights Watch, an international non-governmental organization headquartered in New York, posted a Tweet on Twitter saying that wearing the hijab should be a personal choice. Government-imposed restrictions on wearing the hijab in schools and colleges violate India's obligations under international human rights law.
Some well-known personalities have also joined in denouncing this policy of banning Muslim girls from attending classes.
American model Bella Hadid, in a few powerful Instagram posts, called on people to stop discriminating against Muslim women. She urged countries to rethink the decisions they have made or are trying to make in the future regarding a body that is not theirs.
French soccer star and Manchester United midfielder Paul Pogba has shared a video clip of protests featuring burqa-clad girls being harassed by boys in saffron headscarves. The 28-year-old footballer shared the clip, on his Instagram story with the caption: "Hindu mobs continue to harass Muslim girls wearing hijab at university in India."
Sonny Bill Williams, current heavyweight boxer and former member of the New Zealand rugby team who won the World Cup twice, tweeted in support. He said: "These thugs may tear your headscarf from your head, but they will never tear Islam or Allah from your hearts. So stay strong sisters, send love and duas to yourselves and your families.
Follow NRI cases on Facebook and Twitter for the latest updates. Support us on Patreon.