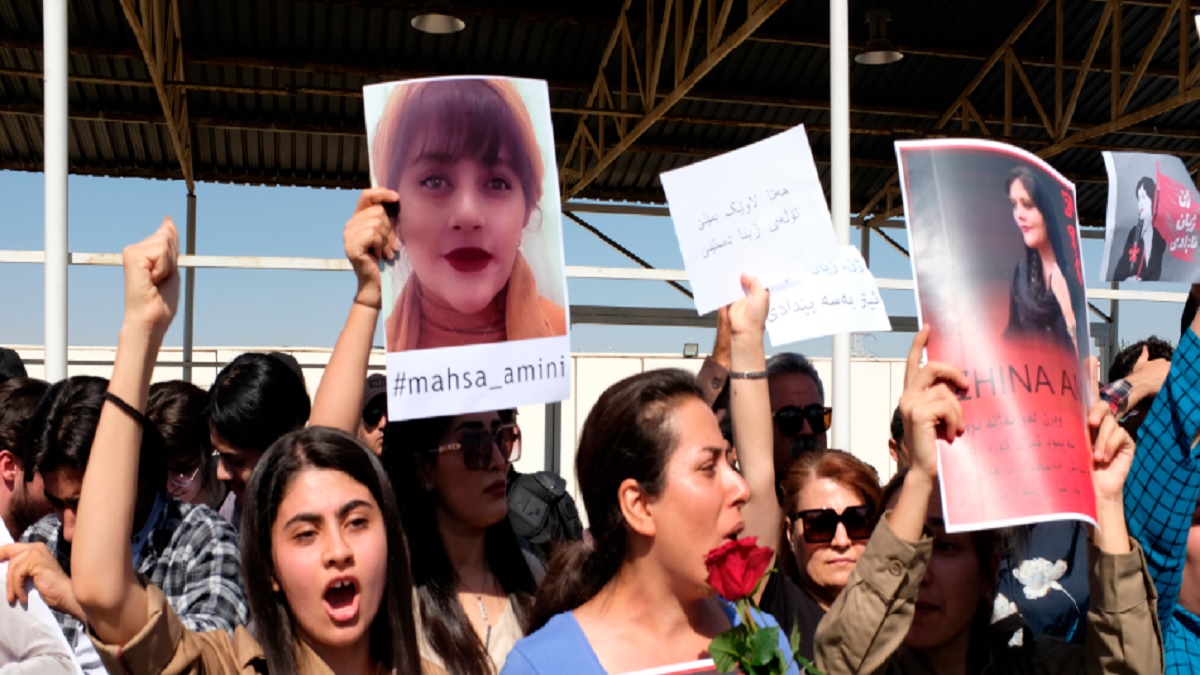 In Iran, women took off the hijab and threw it away, government television was hacked, photo of Khamenei surrounded by flames was broadcast
Strong points
In Iran, women took off the hijab and threw it away
Government television hacked
Thousands shout slogans in support of protesters in Iran at 'The Hague' in the Netherlands
Iranian Hijab: Anti-government protests erupted in several places across Iran on Saturday, in which at least two people were killed. The fourth week of performances began on Saturday. Anti-hijab protests are taking place in Iran following the death of 22-year-old Mahsa Amini in police custody. Police had arrested Amini for allegedly violating the country's strict Islamic dress code. Protesting women waved anti-government slogans and threw off their hijabs to protest the mandatory religious dress code. In some areas, traders have closed their shops due to the call for strikes and to avoid losses. On Saturday, Iranian public television was hacked for 15 seconds during an evening newscast. Meanwhile, images of the country's supreme leader, Ayatollah Ali Khamenei, were released.
"The blood of our youth flows from your feet"
Hackers circulated a photo of Khamenei surrounded by flames. Its caption read: "The blood of our youth flows from your claws." Since Amini's death, protests have taken place across the country and tough action has been taken against protesters, in which dozens of people have been killed. And it is estimated that hundreds of people have been arrested. Human rights watchdogs said a man in a car was shot dead on a main road in the town of Sanandaj in the Kurdish-majority northern region on Saturday. France-based Kurdistan Human Rights Network and Hangaw Organization for Human Rights said the man was shot as he honked his horn in front of security forces stationed on the road.
Had to shoot to clear the crowd
It should be noted that blowing the horn has become a form of civil disobedience. The semi-official Fars news agency reported that Kurdistan's police chief denied reports of shots being fired at protesters. Human rights watchdogs said security forces opened fire to disperse a crowd in the city, killing another protester and injuring 10. Demonstrations also took place in the capital Tehran on Saturday.
The charge of President Ibrahim Raisi
Demonstrations also took place near Iran's main educational center, the Sharif University of Technology, after which authorities closed the campus until further notice. Demonstrations also took place in the northeastern city of Mashad, according to photographs circulating on social media. President Ibrahim Raisi, in a meeting with students of Al-Zahra University in Tehran, again alleged that foreign enemies were involved in inciting the protests. Meanwhile, in The Hague, Netherlands, thousands held up slogans in support of protesters in Iran.
latest world news
loadFacebookScript(){ function
!function (f, b, e, v, n, t, s) {
if (f.fbq)
come back;
n = f.fbq = function() {
n.callMethod? n.callMethod.apply(n, arguments): n.queue.push(arguments);
};
if (!f._fbq)
f._fbq = n;
n.push = n;
n.charged = !0;
n.version = '2.0';
n.tail = [];
t = b.createElement(e);
t.async = !0;
t.src = v;
s = b.getElementsByTagName(e)[0];
s.parentNode.insertBefore(t, s);
}(window, document, 'script', '//connect.facebook.net/en_US/fbevents.js');
fbq('init', '1684841475119151');
fbq('track', "PageView");
}
window.addEventListener('load', (event) => {
setTimeout(function(){
loadFacebookScript();
}, 7000);
});
source link