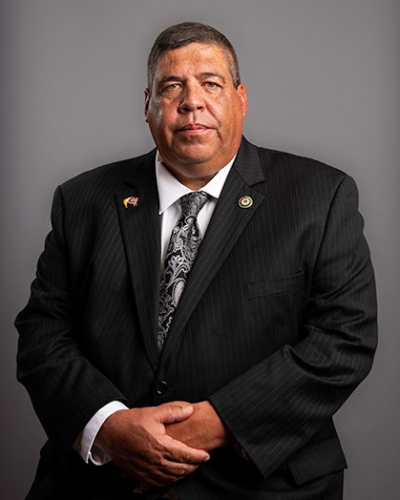 Following criminal charges, Taylor resigns from his Council seat
Wolfetown Representative Dennis Edward "Bill" Taylor resigned his seat on the Tribal Council following an Oct. 6 incident that led to three criminal charges and a domestic violence protective order.
President Richard French relayed the news at the start of today's Annual Council session, reading an email he had received from Taylor the day before.
"It was truly an honor to represent the Eastern Band of Cherokee Indians as a Tribal Council representative for nine years," Taylor wrote, according to French. "At this point I have decided to retire from Tribal Council, to take care of myself, my health and my family, so please accept my resignation on Sunday October 16th as the Wolfetown Communities Tribal Council Representative and Big Y. Please keep me and my family in your prayers.
Court documents allege Taylor, 51, harassed his wife by constantly texting her while drunk, culminating in a domestic dispute on Friday, October 6. When she attempted to flee in her vehicle, according to court documents, Taylor got into her truck and struck her vehicle with such force that it was disabled, including damage to the bumper and tire of the vehicle. rear passenger. Taylor's truck was also damaged. The collision reportedly shook his wife's body enough to cause physical injury. Subsequently, according to court documents, Taylor fled the scene.
Taylor now faces three counts: assault on a woman, domestic violence, assault with a deadly weapon and reckless endangerment.
After his arrest on Friday, October 7, Taylor was incarcerated for 72 hours and pleaded not guilty at a 9 a.m. arraignment hearing on Monday, October 10. He was released on an unsecured bond of $5,000 and fitted with a continuous alcohol monitoring device. A breathalyzer must be installed on his vehicle for him to operate it. He is also subject to a host of restrictions outlined in the domestic violence protection order his wife obtained against him.
His next court date is at 9 a.m. on Tuesday, October 18.
Taylor is currently in her fourth term on the tribal council. He served as the body's president from 2015 to 2017, presiding over a tumultuous time in tribal government that included the removal and dismissal of former senior chief Patrick Lambert.
At the Oct. 17 Annual Council meeting, French said the Tribal Council would "promptly" fill the position created by his resignation through a special election, similar to the seat held by Painttown Rep. Tommye Saunooke. Saunooke died on Sunday, October 9 while serving her 12e consecutive term.
The board of elections will meet this afternoon to discuss special election details and work with the tribal council to establish a schedule, French said. The tribal council will most likely review and vote on an election plan at its next meeting on Monday, October 24.
The tribe's charter and governing document provide that in the event of the death, resignation, or incapacity of a member of the council, the township in question shall elect a new member "under such rules and regulations as may be prescribed by council or election rules". Cherokee law does not prescribe a time limit for such an election.
In an interview after news of Taylor's arrest was announced, Wolfetown Community Club President Jesse Sneed said that if the situation results in a vacancy, the seat should be filled as soon as possible to ensure that voters in Wolfetown are properly represented on the tribal council.
"Our vote is going to be potentially weakened by this, and I would like to see a quick solution to the situation," he said.
Neither Taylor nor his attorney, Leo Phillips, returned a request for comment.