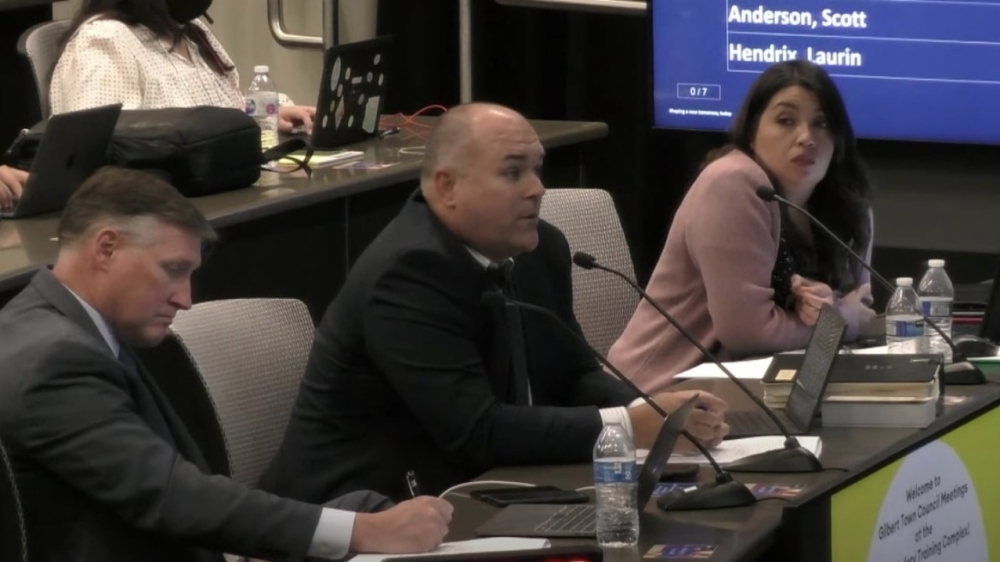 City Council seeks to end ongoing ethics complaints
City Attorney Chris Payne (center) addresses Gilbert City Council on November 2 about gray areas of the code in handling ethics complaints while Chief Executive Officer Patrick Banger (left) takes questions notes and city clerk Chaveli Herrera looks on. (Screenshot from YouTube)
Gilbert's city council has decided to crush an ongoing litany of complaints it now considers "frivolous" after a sixth complaint was filed against Mayor Brigette Peterson.
The council unanimously voted to add a provision to the city code to allow the administrative dismissal of such ethics complaints within 10 calendar days and without further investigation, unless the mayor or at least three members of the council do not wish to hear the complaint. The council, however, told staff that it wanted a complete overhaul of the city's code of ethics for council and councils, committees and commissions, which will be brought back for council consideration.
The new complaint follows five complaints against the mayor. An independent investigation found that Peterson had not committed any ethics violation but had shown lack of judgment in some cases, and the board voted unanimously, with Peterson's recusal, on Oct. 19 to accept the report.
Previous ethics complaints involved its handling of residents' complaints about a proposed apartment development in the Morrison Ranch area, complaints from a town employee about creating a toxic work environment, a proposal to change the way public comments are handled at board meetings and it does not allow public comment on a consent agenda item at a board meeting.
The latest complaint, filed on October 29, stems from the investigation.
Council member Scott Anderson expressed frustration that, shortly after a lengthy investigation and hearing, another complaint was filed about "essentially the same thing."
"It would be a waste of time and a waste of time and money for taxpayers to just go over the same things," he said. "When we know we see frivolous complaints like this, we can dismiss them without having to spend the time and money to have them researched, written up and debated in public."
Anderson said he was concerned that without making a change quickly, similar complaints would continue to be filed, wasting money.
City attorney Chris Payne said there was no way in the current code to administratively dismiss a complaint, which prompted the idea to add a "shot counter" to 10 days for the board to decide whether it wishes to hear a complaint or authorize her to be administratively dismissed.
Payne noted that the code says the clerk can put the complaint on the agenda but does not require the clerk or anyone to do so. But the code also calls on the council to discuss the complaint, creating a gray area to deal with, he said.
Council member Laurin Hendrix called for a change in the way complaints are taken into account.
"[Under current code] virtually anyone, not even a Gilbert citizen, is able to organize a topic, no matter how far-fetched it is, "he said. "A single elected member of council cannot put an item on the agenda. But absolutely anyone on the planet could call something an ethics complaint, and that would require us to discuss it in a public meeting. If no one on the board wants to discuss it, it shouldn't be on our agenda. This is not a meeting of the public. It's a council meeting held in public.
The final complaint can be formally dismissed by council if it's on the agenda or could be allowed to die if three council members don't ask for it to be on the agenda, Payne said.
Other elements
Council approved by 5-2 votes contracts for the Americans with Disabilities Act improvements in the Heritage District and for the works as well as a change order on the renovations to Municipal Building I. Members of Hendrix Council and Aimee Yentes voted against Yentes, saying the high costs were the reason she voted against the contracts.
In a study session, council reviewed the guidelines for using the city's logo adopted last year. The guidelines primarily allow the logo to be used on items deemed to be temporary in nature while avoiding its use on permanent exterior and interior devices.