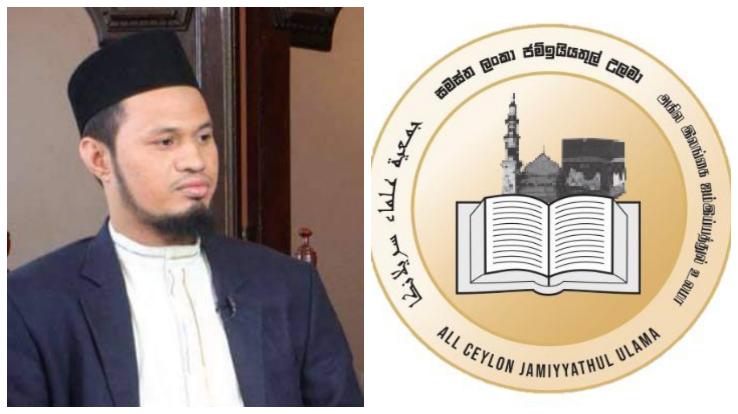 CAJU Appeal to the Muslim Community of Sri Lanka
Press Release by All Ceylon General Secretary Jamiyyathul Ulama.
ACJU's Humble Appeal to the Muslim Community of Sri Lanka
The All Ceylon Jamiyyathul Ulama (ACJU) is alarmed by the numerous media reports claiming that Sri Lanka may very soon face another terrorist attack similar to the Easter Sunday bombings of April 21, 2019. While encouraging the community to pray and to make Du'a to Allah Almighty (SWT) to protect Sri Lanka and all its people from all forms of tragedy and disaster, the ACJU asks, especially the Muslim community to be very careful and vigilant in this regard as we are unsure of the reliability of the above claims.
We call on the community to beware of ISIS and similar terrorist organizations that misrepresent and falsely portray themselves as protectors of Islam when widely perceived to be orchestrated by anti-Islamic elements and to all religions.
Islamic scholars around the world have unanimously declared these organizations to be anti-Islamic terrorist groups, whose leaders have yet to be fully investigated. It should be noted that the ACJU and all Muslim civil society organizations collectively issued a statement on 07/23/2015 stating that these organizations are totally against the teachings of Islam.
(Declaration against ISIS and extremism: https://acju.lk/en/published/item/1625-isis-declaration)
We are deeply saddened by the fact that innocent civilian lives were lost and many were injured in the brutal attacks carried out by terrorists on Easter Sunday April 21, 2019.
We must acknowledge that our community has made countless contributions and sacrifices in the national interest of our country. Our ancestors have contributed immensely to preserving the sovereignty and security of this country throughout history. Likewise, they have been at the forefront of developing and strengthening beneficial foreign relations with our country. Whenever our country was threatened with invasion by outside forces, our ancestors had supported the reigning kings of our country in protecting our homeland. Since gaining independence and becoming a democratic republic, our leaders have made admirable efforts to forge religious harmony and community friendship.
It is disappointing, however, that a situation has emerged where special interests continue to stir up distrust and hatred on grossly false grounds against Muslims, following the cowardly and brutal terrorist attacks perpetrated by a few misguided elements bearing Muslim names, while neglecting the invaluable contribution of the community to this nation.
It is sad that false allegations are being spread against Islam and Muslims by certain elements who intend to disrupt communal unity. We, the ACJU urge the Muslim community not to be provoked by such conspirators and to exercise restraint.
The ACJU calls on its district and divisional branches, Masjid administrators and all civil organizations to pay attention to these matters and on all Muslims to be vigilant and cautious in this regard and strive to tie closer relations with all communities.
Furthermore, we ask all Muslims to read the below mentioned brochure published by ACJU and also circulate it among others.
Tamil: 'Madaththin Peyaraal Theeviravaadam Vendaam'
Link: https://acju.lk/published/item/1993-2020-08-21-06-32-52
Sinhalese translation: "Anthawaadayeku Nowanna"
Link: https://acju.lk/si/published/item/1999-2020-09-24-11-15-13
We urge all Muslims to ensure that our brothers and sisters are not influenced by extremist or non-Islamic ideologues.
We pray that Almighty Allah will grant protection, justice and comfort to all who are suffering in our country and around the world and bless our homeland with lasting peace, unity and prosperity.
Ash-Shaikh M. Arkam Nooramith
General Secretary – All Ceylon Jamiyyathul Ulama